Magna Interiors are planned to be sold to Antolin, Tianhe will sell the suspension business to Amtek in India, Delphi will transfer the sole ownership of the heat exchange system, and the Johnson Controls electronics business will be sold to Weistone.... In the near term, the international parts market is spreading frequently. A component giant sells part of its parts and components business, as Liu Weidong, deputy general manager of Dongfeng Motor Co., said, which is a new change in the international auto parts market in recent years. Then, what are the considerations for the active divestment of non-core businesses by international auto parts companies? How can these new changes have implications for the development of China's auto parts enterprises?
Centrally develop core business and strengthen competitive advantage

"The current international auto parts companies are actively selling non-core business, in order to focus on training the core business's competitive advantage and create a strong single-industry company," said Liu Weidong. Zhu Guangwei, Vice President of Bosch Automotive Multimedia Division in China, also said in an interview with reporters that large international companies are paying great attention to their leading position in the industry and hope to remain in the top three positions.
In 2013, Johnson Motors planned to sell automotive electronics business to Visteon, and completed delivery in July 2014. Data shows that in fiscal year 2012 (October 2011 to September 2012), Johnson Controls Automotive Electronics' sales volume was US$1.4 billion, while automotive interiors sales reached US$4.1 billion during the same period. It is evident that the profitability of Johnson's automotive electronics business is far from its main product automotive interior. As a result, Johnson Controls spun off its automotive electronics business and focused on developing core automotive interior business to better consolidate Johnson's leadership position in the automotive seating industry.
In this regard, Zhu Guangwei believes that although Johnson's automotive electronics business is also relatively strong in the world, but Johnson believes this is not their focus of development, so the automotive electronics business sold to Visteon. For Visteon, its main business is automotive electronics. After the acquisition, Visteon will strengthen its market competitiveness in the automotive electronics field. This is a typical case, and both parties have achieved a win-win situation.
In fact, Bosch has also stripped off some non-core businesses. For example, on September 24, 2009, Bosch sold some of its North American brake business to Japan's Dawning Brakes and sold Sapphire's stereos, because these businesses are not Bosch's current and future ones. Development focus.
In addition, Magna intends to sell automotive interiors in order to concentrate more resources on the development of major businesses such as electronics, powertrains, and batteries; Delphi sells its sole-source business of its heat exchange systems division to Malle for approximately US$727 million. It is also to focus on green, safe, connected automotive electronics trends and highly-designed auto parts products to enhance its market competitiveness.
Regarding the decision of the international parts and components company to spin off some non-core businesses, Wu Kaiwei, the managing director of Delphi Pack & Power Systems in China, said: "The international auto parts companies have actively stripped some non-core businesses. The internal motivation is due to The pursuit of high-end value chain market." Zhu Guangwei said in an interview that this is mostly due to corporate strategic considerations and the pre-judgment of the future development of the industry. Ni Wei, vice president of ASIMCO Group, also agreed that he also believes that R&D resource constraints, internationalization, and the environmental protection requirements of European and American countries also have an impact.
Stripping decisions need to be considered from the long-term development strategy

"Whattodo is very important to a company, Whatnottodo is more important." Ni Wei told reporters that the stripping work requires "prospective" research, and senior executives must have insight and research and can carry out business development at least five years later. Effective choice. Qiu Jianping, general manager of the Changzhou Far East Connexion Group, also stated that the ratio between core business and non-core business needs to reach 7:3 or more before it can be implemented, otherwise the company will have great losses.
However, for Chinese auto parts companies, many companies are good at "adding" and seldom doing "subtraction." In the interview, Zhai Zhongchao, vice president of Zhejiang Shibao Co., Ltd. said: "China's vehicle companies also do a subtraction, such as Geely, but there are relatively few parts and components companies. Many Chinese companies do addition because the company's main business has encountered difficulties. Diversification can reduce the risk of a single operation."
In view of this, Qiu Jianping's view is that Chinese companies like the development of multiple businesses and believe that "the east is not bright in the west", although the fields to be done are wide but not prominent, it is difficult to make the characteristics and brands of the enterprises, and it is difficult to enhance the enterprises. Competitiveness. "At present, China's spare parts companies hope to raise funds through listing, and they are eager to seek greater sales and pursue sales." Wu Kaixing believes that public financing will also affect the decision-making that companies make non-core businesses.
On the whole, Chinese auto parts companies are mostly driven by short-term interests, and there are few long-term strategies, especially private auto parts companies. However, international auto parts companies all have long-term strategic plans. They are very clear about the strategic priorities at a certain stage, and those that are inconsistent with strategic development will be stripped away. Moreover, international component companies will also consider the development trend of the entire automotive industry when formulating strategies. They will often use their R&D capabilities and manufacturing capabilities to seize the high-end value chain market.
Double glazed roll forming machine:It means the machine has two layers. And one layer makes the glazed panel, and the glazed layer is up layer. As for the down layer, it can be IBR or Corrugated. You can choose according your demands. So glazed tile forming machine and Trapezoidal Roll Forming Machine can be made to one maachine, glazed panel making machine and corrugated color panel making machine also can.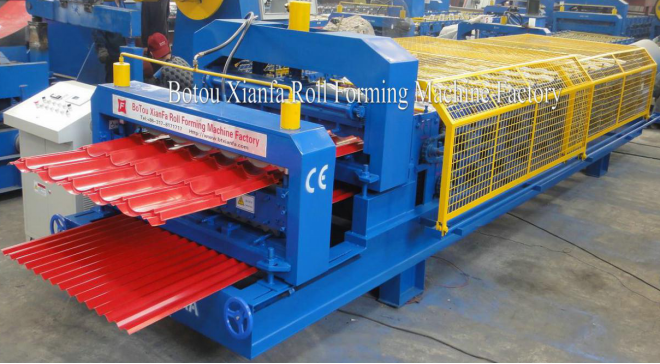 Double glazed Roll Forming Machine
Roman Glazed Tile Double Deck Roll Forming Machine,Glazed Double Layer Forming Machine,Glazed Double Deck Making Machine,Glazed Roof Sheet Making Machine
Xianfa Roll Forming Machine Factory , http://www.btxianfa.com