The new 4YW-2 corn harvester produced by Henan Shengguan Machinery Co., Ltd. is a small corn harvester. It is a newly designed patented product that can be used with various single-cylinder small four-wheel tractors over 18 hp. , Can complete a number of tasks such as picking, collecting piles and stalk crushing and field returning. The machine features small size, compact structure, low power consumption, good job quality, high production efficiency and reliable use. All technical indicators are in line with national standards.
Corn harvester introduction:
  1, suitable for small four-wheel tractor for supporting power, 20-28 horsepower can be;
2, simple installation, operation and maintenance;
3, high work efficiency, can harvest 3-4 acres per hour;
4, can be completed at the same time two rows of corn picking, collecting boxes, landing set heap, straw chopped back to the field and other operations.
5, can achieve corn ear transport, set in the rear granary, granaries can be filled directly after the dumping dump truck, work more efficient.
6, I plant specializing in the production of corn harvesters, small corn harvesters, medium-sized corn harvesters, 4YB-2 corn harvesters, corn harvester experts.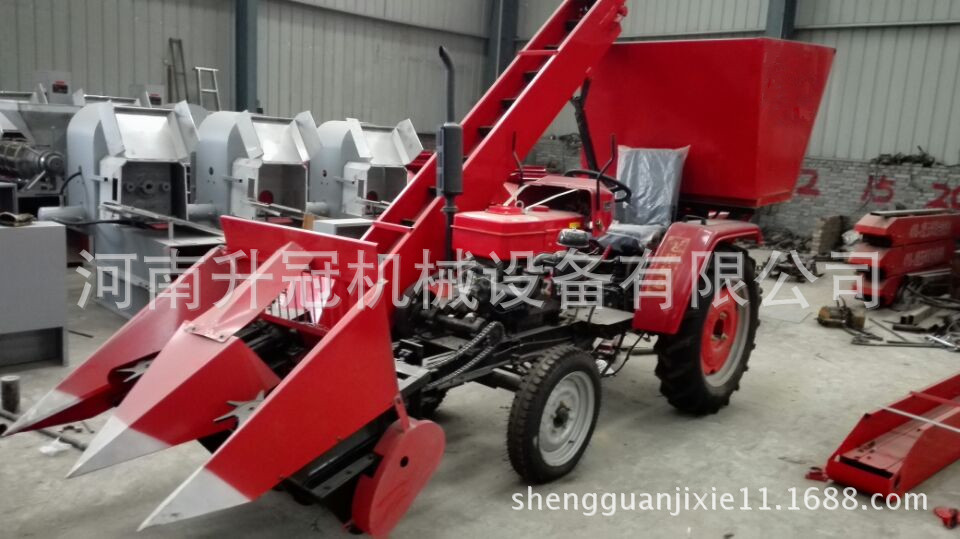 According to the progress of agricultural mechanization, the majority of farmers' friends are eager to get rid of the heavy manual labor of harvesting corn. There is an urgent need for a corn harvesting machine that can pick up corn ears and chop straw. Our factory has developed a 4YB-2 corn combine harvester to fill gaps in the province, in line with the wishes of the majority of farmers.
The model has the following features:
One can not only pick corn ears but also chop corn sticks to achieve straw return.
Second, the unit is energy-saving, only 18-20 horsepower can easily run.
Third, a multi-purpose machine, light and flexible. The unit is used in conjunction with a 20-horsepower compact tractor. The unloading tractor can perform other tasks.
Fourth, high work efficiency, can receive 3-5 acres per hour.
The factory warmly welcomes peasant friends, agricultural enthusiasts and leaders at all levels to visit our factory for guidance.
Note:
1. The factory is also equipped with corn peeler and corn harvester.
2. When purchasing this machine, it can be purchased by the whole machine (harvesting machine + tractor), or it can be purchased separately and used with existing tractors. The factory is responsible for guiding the assembly and debugging.
Shengguan Machinery & Equipment Co., Ltd. has always followed the development philosophy of "survive by quality and seek development by integrity" and has won praises from our customers. Our company will regard quality as our life and our customers as God! The user is our everything! We will always follow the quality policy of being responsible for every process, responsible for each product, and responsible for every user, and we will serve you wholeheartedly!
Contact Us Chang Manager
Company website: http://
QQ consultation method 2018370789
Alibaba shop address: http://shengguanjixie11.1688.com
Alibaba Shop Address: http://shop1435251803343.1688.com

Nut Washer Clamp Locking Machine
China leading manufacturers and suppliers of Nut Washer Clamp Locking Machine,Auto Nut Screw Tightening Machine, and we are specialize in Screw Nut Tightener Machine,Head Automatic Nut Tightening Machine, etc.
Nut Washer Clamp Locking Machine,Auto Nut Screw Tightening Machine,Screw Nut Tightener Machine,Head Automatic Nut Tightening Machine
Suzhou Huaweile Automation Technology Co., Ltd , https://www.hwlelocking.com